Shanghai Ruifiber Industry Co.,ltd mainly involved in three industries: building materials, composite materials and abrasive tools. The mainly products: fiberglass mesh, Grinding wheel mesh, fiberglass tape, Paper Tape, Metal Corner Tape, Wall patches, laid scrim etc.
Mainly Products:
Fiberglass Laid Scrim  Polyester Laid Scrim  Fiberglass Reinforced Mat Tri-directional Laid Scrim
Fiberglass Grinding Wheel Mesh                 Fiberglass Grinding Wheel Discs
Paper Tape        Fiberglass Self Adhesive Tape    Fiberglass Mesh    Windows Screen
Reinforced Paper       Metal Corner Tape     Metal Corner Beads      Metal Wall Patch
For more information, please access our websites: www.ruifiber.com (Company page) https://ruifiber.en.alibaba.com (On line shop)  www.rfiber-laidscrim.com (Laid scrim page) .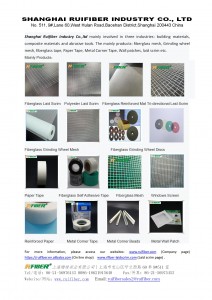 ---
Post time: May-22-2020