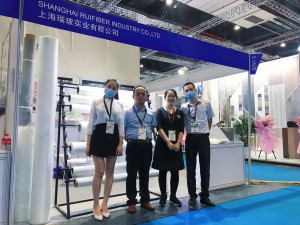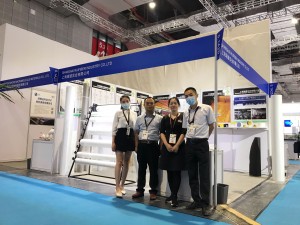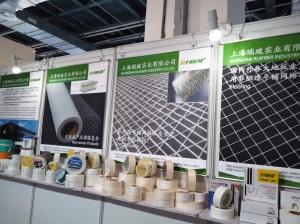 From 31st August 2020 to 4th September 2020, Shanghai Ruifiber has attended the DOMOTEX ASIA/CHINA FLOOR 2020 & CHINA COMPOSITES EXPO 2020 (SWEECC) in Shanghai, China.
Shanghai Ruifiber focus on laid scrims industry for more than ten years, our main products are Laid Scrims, Fiberglass Tapes, Joint Tapes, Fiberglass Grinding Wheel Mesh and Corner Beads, etc.
"CHINA COMPOSITES EXPO", an annual event covering the whole industry chain of composite materials, a feast focusing on the future and development concept of the industry, and a professional technology exhibition of composite materials with the largest scale and the most extensive influence in the Asia Pacific region, was successfully concluded in the Shanghai World Expo Exhibition Hall on September 4, 2020.
At the invitation of the organizer, Shanghai Ruifiber Industry Co.,Ltd. appeared at booth B2728 of hall 2 of the 26th China International composite materials exhibition.
The Expo has attracted more than 660 enterprises from 21 countries and regions around the world, with high popularity and an endless stream of visitors. Taking this opportunity, Shanghai Ruifiber sales elites have a pleasant communication with many customers, so as to deepen their good impression on Ruifiber laid scrims and increase more potential customers.
In order to meet the different needs of customers, the sales elites actively introduce products to new customers and provide overall solutions for effective problem-solving; at the same time, they further communicate with old customers, actively explore the way of future cooperation, and promote subsequent cooperation.
After the unremitting efforts of all members of the sales department, the 3-day exhibition not only received nearly 100 intended customers (far exceeding the expectation). At the same time, it further enhanced the international reputation and image of Shanghai Ruifiber laid scrims and other fiberglass products.
Thank you for visiting Shanghai Ruifiber. See you next year!
www.rfiber-laidscrim.com
www.ruifiber.com
---
Post time: Sep-11-2020